Sewage backup in a house is one of those unfortunate events that can certainly ruin your day as well as your entire week, your habitual daily routine, and even your household items.
Depending on the severity of the problem, you may lose several days. From locating the cause of the backup, eliminating it, and cleaning the mess to not being able to use your home until water damage mitigation is over).
Besides the obvious inconveniences, sewer backup may pose great risks to your health and may turn out to be a considerable drain on your budget. Especially if your insurance doesn't cover such problems and you need to pay for all the repair works and to replace damaged furniture or appliances.
You can avoid the sewer cleanup trouble altogether if you know the right steps to take after a sewage backup.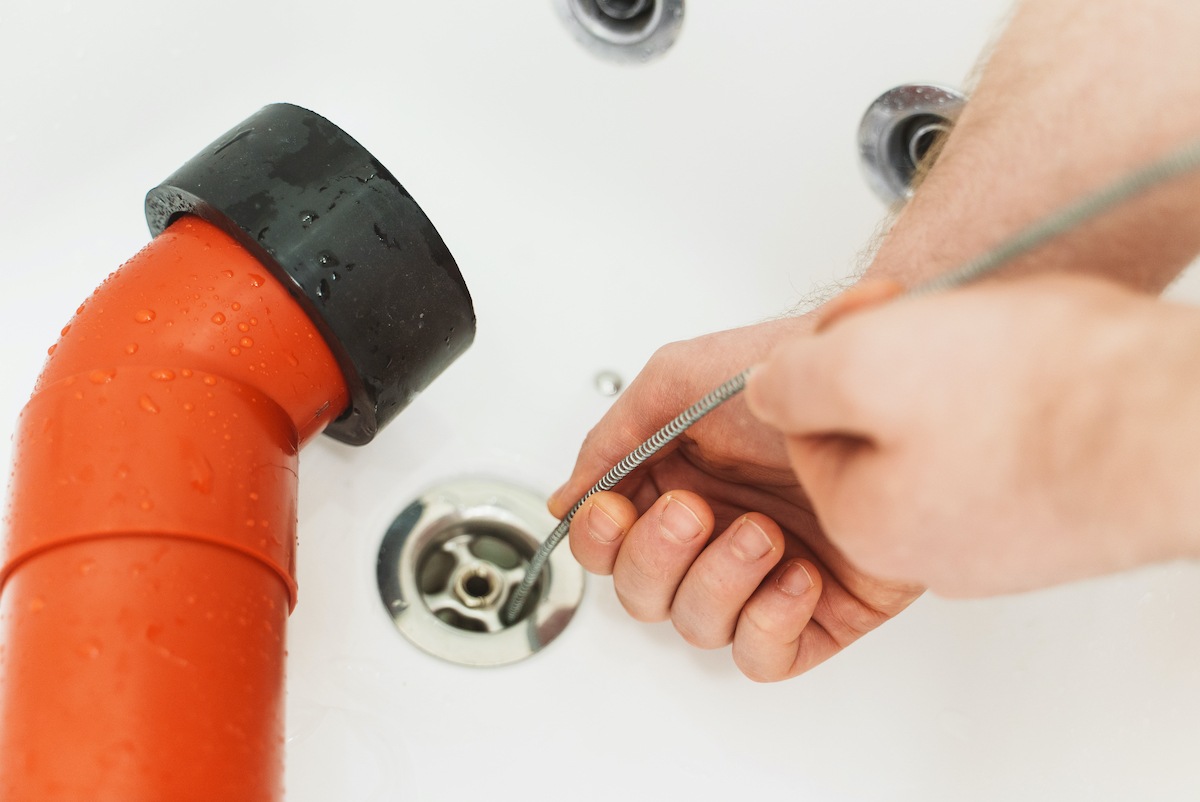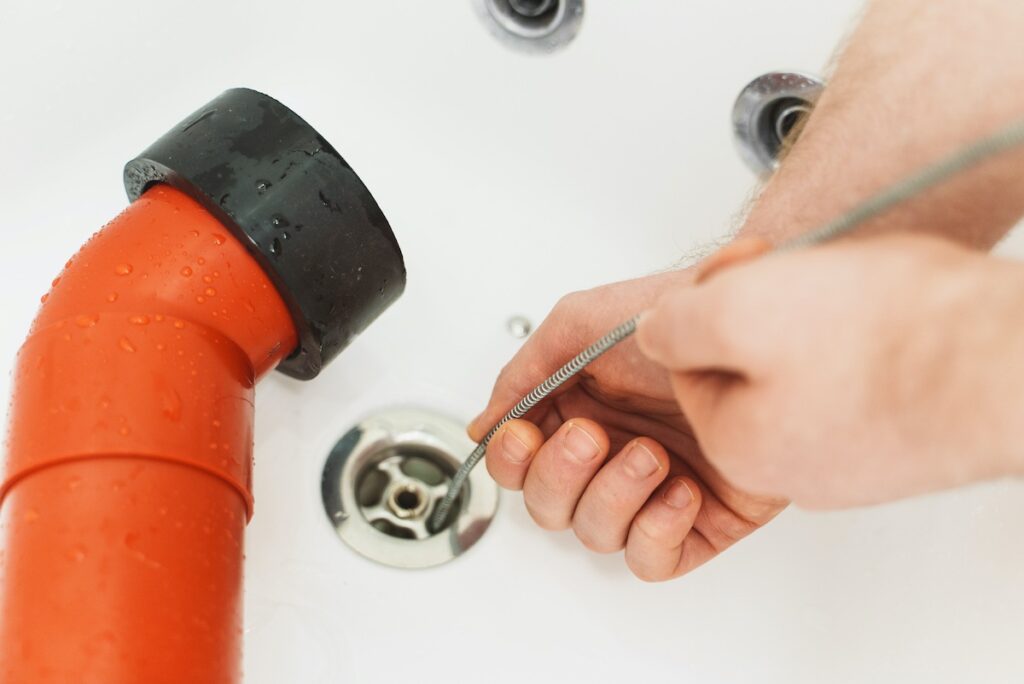 What Causes Sewage Backup?
Backups usually result from problems in the sewer systems or the septic systems treating domestic wastewater.
The typical reasons for a sewage backup fall in three main categories:
Clogging. Sewage backups are common occurrences when a sewer line is clogged. If you experience a problem with just one toilet, sink, or tub, there is probably a clog in its particular drain and appropriate drain cleaning will resolve the issue without further repercussions. If, however, every flush creates a sewage backup in your home, the situation is much more troublesome – it means that the main sewer line is blocked. A blockage in the private or main sewer causes a backup through floor drains and toilets at the lowest point in your property, resulting in sewage backup in basements first. Unless the blockage is removed, the overflow will continue and will damage your entire home or business area;
Tree Roots. Although it is somewhat hard to believe, the roots of large trees in the proximity of a sewer line can often cause severe problems. They can literally grow into the pipes and cause holes and blockages or they may wrap around the sewer line and crush it;
Damaged Sewer Lines. If your property is old and the plumbing and sewer systems have not been recently renovated, your sewer backup may be caused by broken, cracked, or collapsed lines. All the pipes and sewers in older homes were built using cast iron and clay which can wear off with time, get rusty, and easily break down. Present day plastic sewer lines cannot cause such problems simply because they don't rust. Blockages in the private or main sewer lines can cause a backup in your home or office.
Sewage Backup Risks
Leaving aside all the repulsive dirt and smell involved in a sewage backup, the problem can cause much greater harm if not addressed timely and properly.
Health Hazards
Water contaminated with sewage usually contains a variety of bacteria, viruses, and germs that are harmful to your health.
You can experience vomiting and diarrhea or even contract Hepatitis A if you consume contaminated water or food.
You can also get sick if you use items that have been in contact with the sewage without disinfecting them properly first. The viruses are not transmitted through the air but the contaminated pieces can easily get in touch with consumables, kitchen utensils, medicines, toiletries, etc.)
Have in mind that touching such articles with bare hands can cause skin irritation or infection, especially if you have cuts or sores.
Fire Hazards
If the water level has reached any plugs, electrical outlets, extension cords, or gas-burning equipment, do not touch anything!
Get out of the building immediately and call the professionals as the risk of a fire is enormous.
If all your electrical equipment as well as the distribution panel is still safely above water, switch off the power as soon as you detect the problem.
Let safety be your top concern: wear rubber boots, make sure that you are standing on a dry surface and that you are not touching anything made of metal (pipes, ladder, etc.), stand on a wooden stool or chair (dry wood is not a good electrical conductor), and shut off the main switch with the help of a dry wooden stick or at least – rubber gloves.
Property Damage
If your property remains under sewage water for long, the damage will be considerable.
Be aggressive in locating the source of the sewage backup and addressing it.
After all, nothing is more important than your health and the health of your family. Mold caused by water damage can become a serious issue very quickly if left untreated.
Flooring and insulation materials that have been soaked up can no longer be used. As well as mattresses, leather products, stuffed toys, and paper products.
Furniture and washable fabrics that allows deep cleansing can be saved. Everything you decide to keep must be sanitized and cleaned properly.
That's where PureDry Restoration can step in and help properly take care of the sewage damage. You'll know you are safe.
We at PureDry® have 20 years experience of helping businesses get back on their feet quickly by using our specialized sewage cleanup and disinfecting processes.
In fact, Pure Dry Restoration mold remediation equipment incorporates sanitizing treatments and air purification. This allows us to clean damaged properties faster and safer than our competitors.
This increases the chances of restoring a property, rather than demolishing it!
The risk of sewage backups is greatly reduced when you keep the drains in your property clean.
Sewage backup insurance may or may not cover the costs for the water damage restoration process and the expenses for the replacement of damaged household items, depending on the cause of the backup and other factors specific for each case and policy.
PureDry Restoration Will Help Through The Insurance Companies
We have years of experience navigating insurance companies. What is even better we help you through it.
Generally, if the reason for the problem is found to be your negligence, you can't expect any reimbursement.
If the blockage is due to roots from a tree in a public area or the pipe has collapsed on state property, the responsibility is not yours and you should be rightfully compensated.
We at PureDry Restoration will help you every step of the way from the first call to the insurance issues.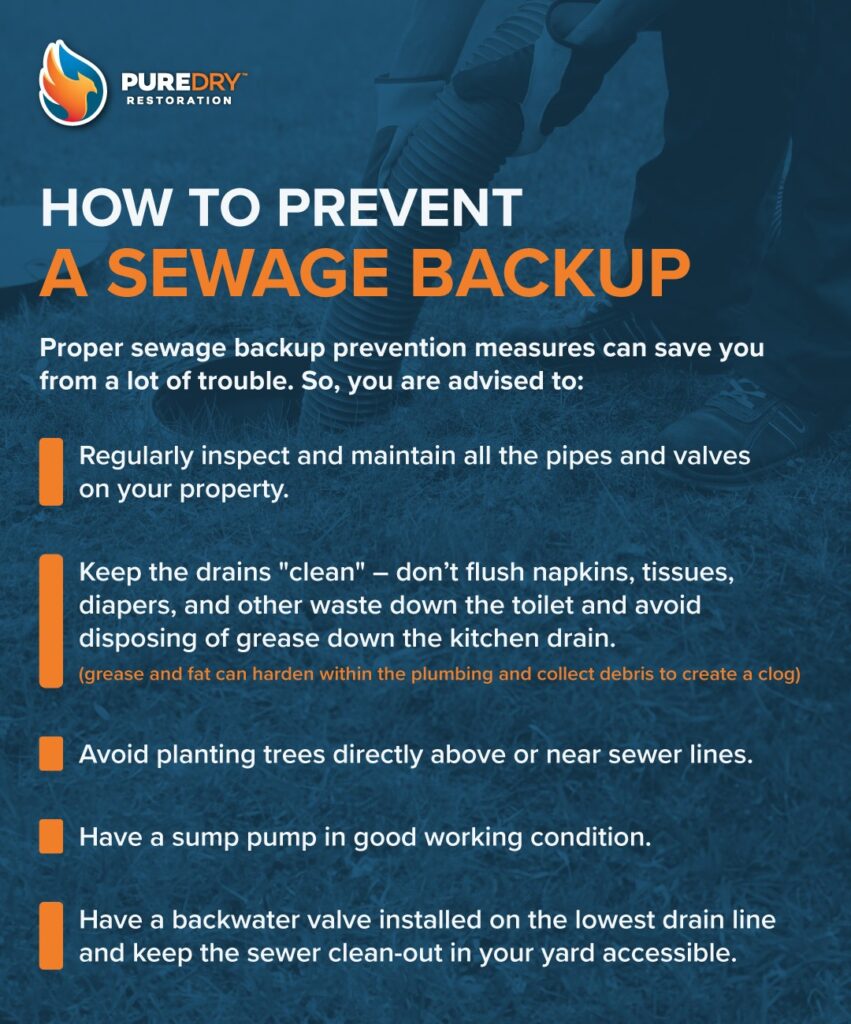 Insurance Claims
A good restoration company can also help property owners decide if it's best to make an insurance claim or pay for the damage directly.
PureDry® Restoration works with property owners to ensure the best insurance outcome.
This includes detailed documentation of the disaster, generating accurate estimates, we will bill the insurance company for you, and we will help you every step of the way to negotiate with insurance companies.
We are certified and professionally experienced in the insurance process to help you.
We are already pre-approved by your insurance as on IICRC certified, experienced, licensed, bonded and insured restoration provider.
PureDry Restoration has been a trusted ally among property owners throughout the Seattle area for more than 18 years.
What to Do After Sewage Backup
If you take quick and efficient measures, you may limit the damage considerably.
1) Do not flush toilets or attempt to drain tubs and sinks – just don't use the water supply system in your home until the problem has been detected and taken care of;
2) Do not use harsh chemicals in an attempt to unclog the draining system quickly and easily. They can damage your pipes and sewer lines and make the matters worse. Opt for treatment options which use enzymes instead of chemicals – they will most likely solve your problem and will prevent future clogging;
3) Keep children and pets away from the affected area;
4) If it is still safe, shut off the power. Otherwise, don't go near electrical equipment;
5) Wear protective clothing: gloves, eyeglasses, rubber boots and a face mask.
6) Open windows to allow fresh air in and ventilate well to remove any fumes.
7) Use sump pumps to remove excessive water;
8) Call for professional assistance.
Remember that sewage backups should be dealt with as quickly as possible to prevent further damage.
Professional water damage mitigation services have the most adequate equipment and the rich experience required for a quick and efficient intervention. Here at PureDry Restoration, we can come up with the most appropriate, safest, and least expensive solution.
What is more, most water damage restoration companies offer not only water extraction but also quality repair works, odor removal, and overall sanitization at reasonable prices.
PureDry Restoration's timely assistance will save you from great troubles and will help you quickly restore your daily routine.
Sewage Cleanup
Sewer cleaning is better left to the professionals but you can sanitize your own property if the sustained damage is not too extensive.
If dealing with a sewage backup, DON'T RUN FANS. This can spread dangerous contaminants throughout the property.
Dealing with Sewage Backup?
We also provide safe sewage cleanup and sewage removal. Raw sewage is difficult to cleanup and can be extremely hazardous.
Sewage can contain high amounts of harmful bacteria and there are serious health risks associated with it. It's critical that you do not try to clean up the mess from broken pipes that are connected to a sewage line.
Coming in contact with raw sewage can cause disease, can destroy your valuables and cause severe damage to your property.
Only trained professionals with the right equipment should handle sewage removal. Our team of professionally certified experts have years of experience resolving various sewage cleanup and repair problems.
Move furniture, electronics, and personal property to a safe location to avoid further water damage.
If applicable, remove curtains and anything else that touches the floor to avoid water damage.
Wash hands after ANY contact with standing water. Be sure all property occupants do the same. Tools, brooms, mops, etc. will need to be sanitized after use.
Asses The Damage, but Don't Clean
Property owners think they're helping when they clean flood damage, but they're destroying evidence that could impact a claim or get the claim denied altogether.
Instead of cleaning, follow the steps we've listed above.
Then, if it's safe, take pictures of all property damage including personal items.
Once all the sewage water is removed, you can follow these sewage backup cleanup tips if you think you do not need professional help:
Make sure your property is properly disinfected after a sewage backup.
Work from the top downwards to hose down any dirt sticking to walls and furnishings;
Wash intensively all surfaces and structures
Clean all the floors as quickly and efficiently as possible (replace flooring that has been deeply penetrated by sewage);
Discard sewage-soaked carpets. Wash and dry well any area rugs that have been only slightly affected and you intend to use them again. Clean and deodorize all carpets that have been in contact with sewage, however minor, or have them professionally cleaned;
Check for mold and use EPA approved sprays to kill any visible spores. Sanitize any cavities with the above described solution of water and chlorine bleach. Make sure that all structural elements are completely dry before closing cavities in walls, crawl spaces, and others;
Discard any soaked and dirty materials and debris, including wet insulation and drywall, residual mud and others;
Scrub slightly affected furniture pieces and appliances with antibacterial soap and water and let them air dry or steam them clean;
When washing contaminated clothes and bedding, add one cup of chlorine bleach to the water;
Throw out any consumable goods, including spices, herbs, etc. that may have been in contact with the sewage;
Discard anything that cannot be properly sanitized, such as stuffed toys and paper goods. Items of great sentimental or monetary value should be professionally cleaned and restored, if at all possible. Pieces that show no visible contamination pose minimal risk and can be used again once they are properly disinfected and completely dry.
Sewage Backup
Before returning to your everyday life, make sure the entire property has been perfectly sanitized by a professional, the electrical and plumbing systems have been checked and fully repaired, and all the appliances are safe and in good working order.
PureDry® Restoration performs emergency water mitigation, sewage backup, mold, and dry-out services from commercial and residential property owners in northwest Washington State.
We are a locally owned and operated company servicing the greater Seattle areas. We believe that your satisfaction is our reputation.
All of our technicians are highly trained and experienced in water mitigation, mold, and dry out.
We use state of the art equipment and techniques to achieve top notch results for our customers.
If you have found yourself dealing with sewage damage, we also provide safe sewage cleanup and sewage removal.
Raw sewage is difficult to cleanup and can be extremely hazardous.
Sewage can contain high amounts of harmful bacteria and there are serious health risks associated with it.
It's critical that you do not try to clean up a mess from broken pipes that are connected to a sewage line.
Coming in contact with raw sewage can cause disease, can destroy your valuables and cause severe damage to your property.
Only trained professionals with the right equipment should handle sewage removal.
Our team of professionally certified Sewage Damage Experts have years of experience resolving various sewage cleanup and repair problems.
Call PureDry® Restoration 24 hours a day, seven days a week for immediate relief.  
We are never closed
We will be to you in 60 minutes or less from the time the call is placed.
Team of Certified Experts at PureDry
We know this is a stressful time. It is our mission to provide the best customer service experience, be on-time, and to assist our clients through the entire insurance claims process to ensure their homes are left clean, healthy & restored.